To seek out closure in any aspect of life is a truly rare thing. For any performer to willingly let go of the spotlight and a sold out audience is something rarer. In professional wrestling many have never been able to close the door on their own terms and to be able to do that, to end a legacy and tenure on one's own terms is something that doesn't get seen very often. 
For those who know me will know that the pageantry and mystique of professional wrestling has had a place in my heart since before the years I ever aspired to pen any book, or write any blog but still to me wrestling is story telling. When it's good, it's awesome and of course many will laud the bad's of an industry that once upon a time I aspired to get into. We've all heard of the premature deaths, or various scandals of new and old, most of us have even done a few laps on the whole 'fake' contemplation racetrack. The truth is wrestling is a performance; something I always dreamed of doing.
Of course I itched my performing scratch big time by swapping out the ambition of stepping between those ropes to treading the boards and taking in the spotlight via theatre instead, and even though my ten years as a performer don't compare anywhere near to most who have any type of career in pro wrestling, I can fully relate to the addictive nature of what performing is. For me and quite fortunately I had always been eyeing up a way off the stage, to have my day and be done, then to find a way to escape the pressure of learning lines, wearing goofy costumes, dealing with performers who don't take things as seriously and of course risking my own mental health to stand up in front of strangers. That escape came in the form of script writing and so I haven't fully turned away from performing but taken a diagonal turn towards new challenges. But most importantly my escape from performing was both peaceful and final. It was the 'Star Wars' ending, it was closure.
The Undertaker is a name that sits in the very upper echelons in the realms of pro wrestling. It's a character that has never really been broken or had any type of backstage lid lifted upon it. There hasn't been any 'shoot' type interviews over the many years by the man behind the 'gimmick' Mark Calaway who has operated, since 1990 mind, when the likes of Hulk Hogan headed match cards. Luckily for me I managed to see the Undertaker way back in 2009 when at a Smackdown taping in London where he faced off with the Big Show and yes his entrance is as awesome as it looks, even from the nose bleed seats…
Quite recently the WWE network has premiered 5 special and ever so candid documentary style interviews with the Undertaker in the form of a series called 'Last Ride'. Each episode follows the Undertaker who, without many realising this really is his final ride and crowning piece to a thirty year career. It goes into depth about the feelings of a man who has gone round and round in his time in the squared circle.
Much of the theme focuses on family. The Undertaker has kids and a wife, Michelle McCool – a name fans of the female wrestling movement will know and you can see the strain it is putting on her concerns for a man who might not know he is at the end of his career. During these 5 episodes we get a roller coaster ride as it covers his final years and matches with have been rare occasions of recent, from his initial 'retirement' moment against Roman Reigns at Wrestlemania to the few special exhibition matches that didn't go too well; Bill Goldberg comes to mind. There is even some in depth look at the 'streak' where the Undertaker went 21 years without a loss at Wrestlemania – something that should have never been broken in my mind. In a sense it just goes round and round on a somewhat damning repeat for the Undertaker who is either looking for redemption in one match or finality in another. This vicious cycle is something he must break to find some finality.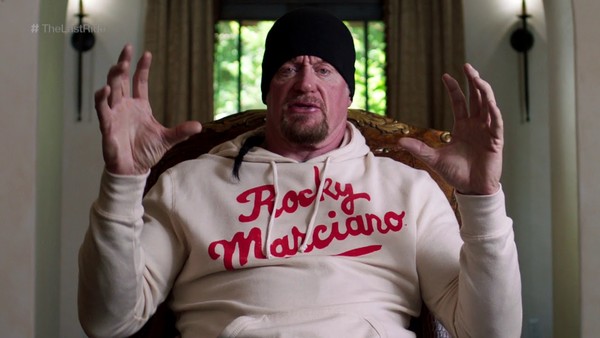 Without giving much away because even on this blog spoilers matter, the whole docu-series is well worth watching, even for the casual fan of wrestling, like me I don't tune in much these days. You'll see wrestling in a different light and through the eyes of a man who has been there the longest. 'Taker's interactions with others backstage is seen for the first time along with his emotional journey of seeking closure, it really is gripping. Those with their ear on the Twitter verse ground will know the Undertaker has used this show to laud his perhaps final retirement, and whether or not he is going to stay away from the spotlight and squared circle, this show has been the vessel for a great ending of a great career in performance, sports entertainment and the culture of wrestling. For the Undertaker it has been closure.