The stories we read, see and hear sometimes leave a lasting effect on our lives. Stories inspire us to be who we are. They shape our own journey and can take the mind anywhere. There are some stories that effect us so much, they even shape our future…
Growing up in the 90's means that I've been witness to some incredible technological advances throughout my life. Video games in particular literally leaped from 16 bit all the way to 64 in a matter of years, but that's just talking about numbers. The experience of a story is what resonates through us all and one particular story that I first discovered all the way back in 1999 still resonates through me. I'm talking about Half-Life and yes I am one of the people who played it quite soon after release at 10 years old.
Back then parents didn't really take much note of game ratings and I'm not sure there even was anything strict to really regulate them at the time. Summer holidays consisted of being out all day and then watching the likes of South Park at night or the late movie which again probably had an age rating, there wasn't a snowflake in sight and well most of my generation turned out okay…
And then this game came along that was included in one of my friends brand new Dell PC's. It carried an air of mystery as neither of us had heard about it back then and so we went in to Half-Life totally and completely blind. By that year, '99, the concept of a first person shooter game was relatively fresh from the birth of the genre earlier that decade with Wolfenstein paving the way to Doom, Quake, Duke Nukem, Alien Trilogy and even Goldeneye for the N64. all of which, deserve a nod. Neither of us knew then what we were getting into.
Lifetime fans such as myself sometimes forget that Half-Life is a first person shooter game because the story is so rich and immersive from the very start – something rare for the era and so after installing this game we began.
Games slowly immerse you these days through a sometimes cinematic sequence where very little is required to do other than get a feel for the environment or what is to come. You have the makers of Half-Life to thank for that as early on, in fact for the first half hour of the game and after what appears to be a calm and very visual but solitary train ride commute, you are Gordon Freeman, theoretical physicist who is late for an experiment.
This clever but immersive way of starting the game heightens the sense of weight for a situation which is about to unfold. You are late for work and rushing around – something many of us can relate to. You are introduced to other scientists who also work at this extensive Black Mesa Research Facility. The sense of mystery is overloaded while you are unaware of a sinister build up to this experiment which subsequently goes wrong and then the real game begins…
The experiment gone wrong results in something called a resonance cascade and as you the player are in the test chamber when it unfolds. You see just a snippet of what has been unleashed. Another world full of primitive creatures has began to merge with the one of Black Mesa and Freeman must now fight his way through a heavily damaged work environment to look for answers and try and clean things up.
It's part Stephen King part alien blasting shooter because eventually Freeman comes across allies and enemies who are human as a cover up attempt begins. The army is brought in and so this trifecta of scientists, aliens and soldiers collide, yet you remain silent throughout the unique set up. There are no cut scenes, no level finishes, no speaking from the most iconic game character in modern times, he is the silent crusader working his way through the puzzling hazards of a huge science facility sometimes armed to the teeth and then just with a crowbar. Of course watching the whole thing is a thin man holding a briefcase who appears every so often, a presence now known as G-man. All of these concepts were unique and were never done until Half-Life. Apart from those now iconic loading screens this game just runs from start to finish.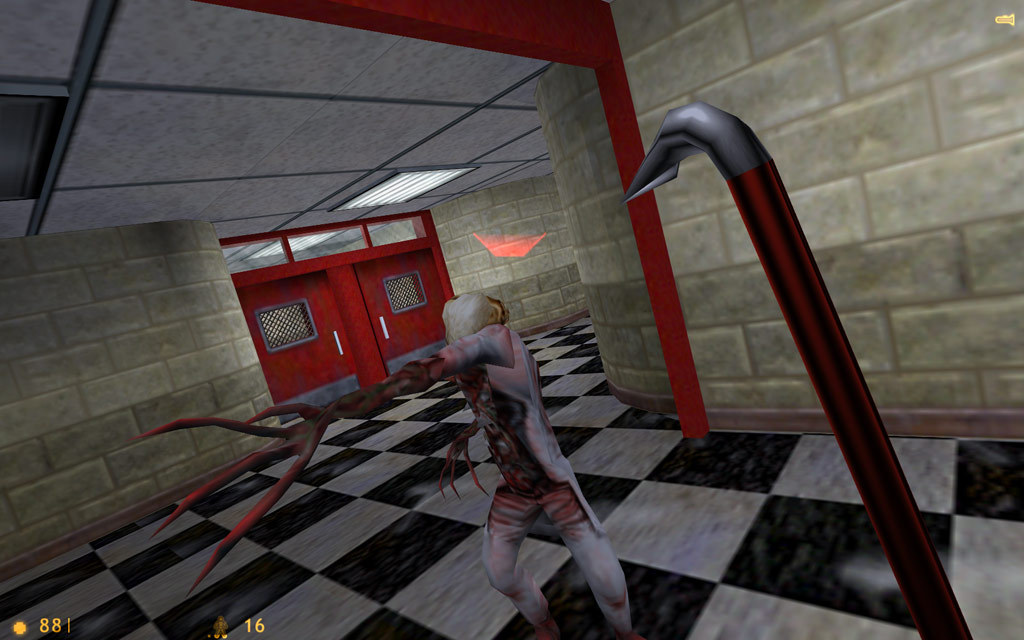 As a 10 year old kid, this game had a resounding effect on me. That first play through is something I will always treasure and now in modern times and as a person who works in a huge science facility with radiation hazards, cutting edge technology and of course plenty of scientists; I can't help but think that Half -Life inspired that journey in some senses.
My debut novel carries similar traits that you'll find in Half-Life, especially the concept of soldiers arriving after everything falls to shit. This game and its setting, story and concept was something that had never been seen before and dare I say it, has ever been successfully emulated. The story stands the test of time and was expanded upon for the subsequent sequels but this one, stands above them all.
Have you played Half-Life?