Ah yes, sanity, it's an interesting subject right now and like the elevator industry for me it has it's ups an downs… The truth is and although 'governments' are trying to get folks back to work and out of lock down, it isn't over yet, not for a long while and personally I'm staying in for the near and possibly distant future. 
Just how am I staying sane every other day in this emerging world of being inside and sat on one's posterior? It's simple really, I'm re watching a lot of stuff that I liked in the past so here are a few recommendations that have been keeping me distracted from my own sanity…
Life on Mars – Series by BBC – Available via Netflix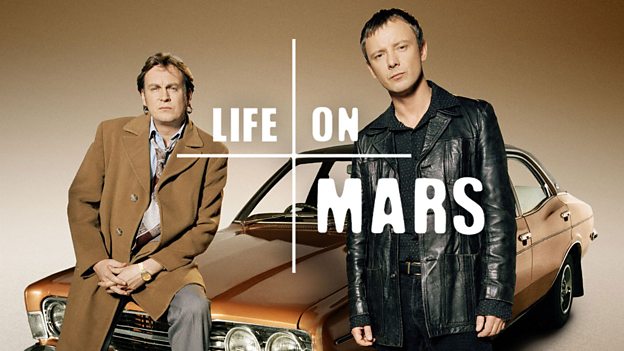 It's hard for even me to accept that 2006 is over 15 years ago but facts and age realisations aside because Life on Mars is somewhat of a time travelling gem in my eyes. This is because the show has aged rather well and portrays 1970's Manchester through the eyes of Detective Sam Tyler who is run over in the present day and wakes up there – it's a pretty genius and 'out there' concept that works. Sam must survive life in the 70's as a detective and find a way home.
There's a level of authenticity about the whole thing and not to mention the atmosphere is captured well. Now I was born in the late 80's but after watching it beside my Old man back in the day who left school in '74, he can vouch for the authenticity of what is a police procedural show that captures the times and has a side serving of science fiction/Bowie-esqe weirdness. Because it arrived in 2006 there isn't a lot of PC stuff which makes for more realism and if you do watch it, the show is dominated by a great performance from Phillip Glenister who plays the boozing, scruff snatching, say what he want's DCI Gene Hunt and not to mention the soundtrack is golden!
The X-Files (Season 2) – Available on Amazon Prime 
Without doubt Sci fi television what not be what it is today without Mulder and Scully's antics. I'm currently near the end of Season 2 and this show overall is still very watchable and stands up to today's standards. Just the stand alone capers these agents find themselves in make for some great 45 minute escapism with a hint of the weird.
Spotlight – Netflix 
Although it's not a show, Spotlight is a great film that has been on my sights for a while and so the other day I spent an evening watching what is a gripping roller coaster of deception and unravelling of truth. The film follows a group of investigative journalists in Boston who uncover the truth about a racket of sexual abusers in the Catholic church.
What hit me the most was how determined these journalists were in finding the truth. They weren't looking to create a story, they were proper journalists – unlike many in the media we see today. It just reminds us how there can be responsible ways news can be reported as opposed to the fear mongering, bad news churning machines most outlets are today.
The cast is stellar, Michael Keaton, Rachel McAdams and Mark Ruffalo head up a great film and story which will keep you gripped.
The Walking Dead – Season 3 – Available of many platforms 
It's such a shame this show became what it did, but back in the day in the earlier seasons this show had a heart and soul. It portrayed horror and the struggle of surviving. The characters and their arcs were like nothing we had seen in the genre. It was beyond a soap opera, it was an art that the actors wonderfully created. The acting in this thing has always been great and recently I have been working my way through what is a show that I keep close to my heart- up to season 6 anyway.
For those who have never tasted water from the walking dead well, try the first few season and you'll understand.
Aliens – DVD 
Possibly the finest hour of space action. Aliens is the blockbuster sequel to possibly the finest hour of space horror and they are both in my top 10. James Cameron directs what is both action and horror fused together by the unknown of what a small team of mercenaries and a survivor from last time face. The cast, the production design, the action, the suspense all of it still hold up very well today for what is a film that released way back in 1986. The extended version isn't that much longer than the cinematic version so it's worth a look. Of course Sigourney Weaver sealed her place in the action hero hall of fame. Watch it, you will not be disappointed.
And so that wraps up the things I've been watching to stay sane. What have you been doing to stay sane?